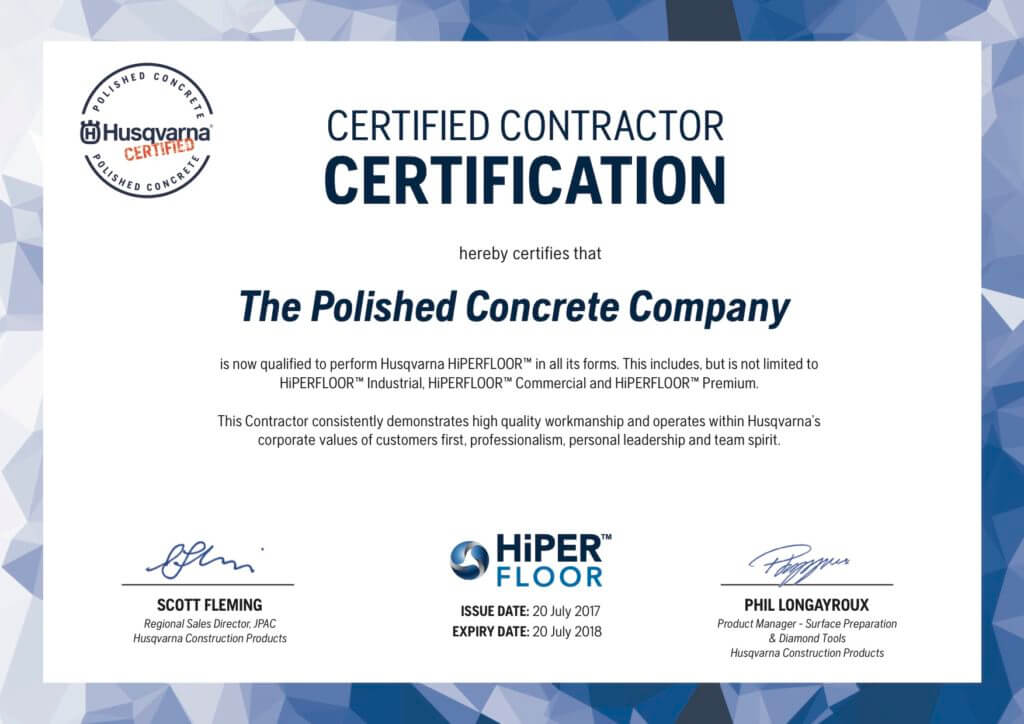 07 Nov

Husqvarna Hiperfloor ® Certified Contractors

Thousands of square metres of grinding and polishing later, The Polished Concrete Company are pleased to announce that we are now Husqvarna Hiperfloor ® Certified Contractors. But while we're still busy celebrating here at The Polished Concrete Company HQ, you probably have a few questions.

WHO ARE HUSQVARNA?

Many people are familiar with the Husqvarna brand but did you know Husqvarna have been manufacturing machinery and tools since 1689? Here in Australia, Husqvarna Construction are one of the biggest suppliers of concrete cutting and grinding equipment for concrete polishing contractors such as The Polished Concrete Company. Husqvarna are at the forefront of the latest diamond tooling technology and even run concrete polishing training courses. Basically, when it comes to polishing concrete, Husqvarna know their stuff.

WHAT IS HIPERFLOOR®?

Hiperfloor ® by Husqvarna is a complete concrete surface polishing system, which enhances the beauty, strength and abrasion resistance of concrete floors while reducing maintenance and costs.

Hiperfloor ® can radically transform a broad range of new and old concrete floors. By mechanically refining the already hard concrete surface through grinding, polishing and densification, we can bring virtually any surface to a whole new level of beauty, functionality and strength. With different specified processes, a flooring solution can be tailored to fit any requirement – aesthetics, floor flatness, gloss and price.

Hiperfloor ® is available in three distinctive surface finishes: Premium, Commercial and Industrial. Each finish has a well-defined specification for the working process and selection of grinding/polishing tools and chemicals.

WHY SHOULD I CHOOSE HIPERFLOOR®?

Hard and resistant

With the Hiperfloor ® method, we take an already hard material and increase the surface density and abrasion resistance to a level where the concrete surface is extremely resistant to wear and marking. Selecting the Hiperfloor ® concrete polishing system significantly increases durability and reduces life cycle maintenance costs. The absence of a surface coating reduces costs traditionally associated with flooring installations. The result is a smoother surface with reduced cleaning costs.

Environmentally sensible

Hiperfloor ® is the smart choice to reduce environmental impact. The process transforms existing concrete substrate into a wear resistant floor, incorporating the use of products that cause very little environmental stress or waste.

SO WHAT DOES THIS MEAN FOR THE POLISHED CONCRETE COMPANY'S CLIENTS? 

All Husqvarna Hiperfloor ® Certified Contractors have had their work reviewed by the Husqvarna team and also meet Husqvarna's required level of experience. (In the world of polished concrete, experience is measured by the amount of square metres a contractor has polished and ground). Husqvarna Hiperfloor® Certified Contractors use top of the range Husqvarna machinery and products, and follow Husqvarna's tried and tested process every time they polish a floor.

Now that The Polished Concrete Company are Husqvarna Hiperfloor ® Certified Contractors, every polished concrete floor we complete comes with a letter of warranty from Husqvarna Australia. When you engage The Polished Concrete Company you can rest easy knowing that we stand by the quality of our work, and so do Husqvarna.